Footy Force partnered with Denison Cabral to host a Samba Futsal Clinic at The Bermuda College on the weekend for players from 8 – 15 years old.
Mr. Cabral, President and Director of coaching at the Denison Cabral Futsal Academy [DCFA] says, "Impressed and amazed! That is the way to describe how I feel about the talent and skill level of the players during our Futsal clinic here in the island.
The players that attended the Samba Futsal Clinic: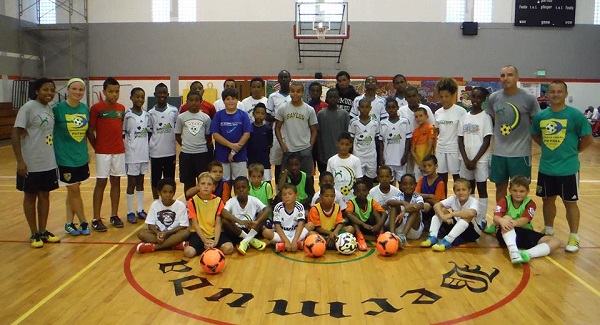 "We [DCFA] feel very honored and blessed to have this opportunity to come out to our favorite place in the world and work with our friends from Footy Force Futsal program, sharing our coaching experience and supporting Futsal in Bermuda was or main goal during the 2013 Samba Futsal Clinic," said Mr Cabral.
"During this week we shared with the coaches, more Futsal specific drills focusing on possession, one touch finishing and defense formation. What a great successful clinic with over forty kids, we leave the island with a very impressed, happy and satisfied feeling.
"We had a great time and looking forward to the next one. Thanks to the Futsal federation in Bermuda [BFF], coach Peter Richards, and Vinzie Zuill from Footy Force Futsal for hosting us this year."
Footy Force coaches Peter Rickards and Vinzie Zuill, DFCA coaches Denison Cabral and Kate Laukhart, and the president of Bermuda Futsal Federation Peter Sousa.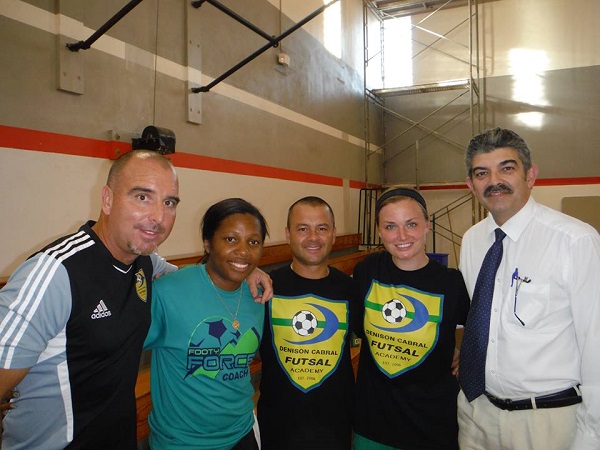 Vinzie Zuill, President of Footy Force says, "Footy Force Futsal was delighted to have Denison Cabral on the island to assist with our Samba Futsal Clinic. The techniques and energy he brought was excellent.
"I can't say enough about the players that attended the clinic. They were like sponges and absorbed every drill and skill that we gave them. When given the opportunity to show their talent, the players entertained and performed very well."
DFCA coaches Denison Cabral and Kate Laukhart with Samba Futsal Clinic MVP Ethan Furbert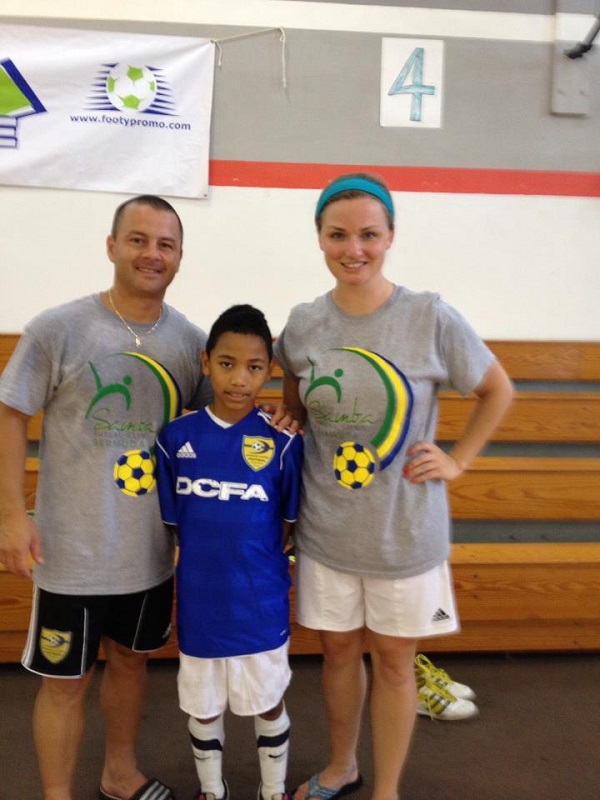 "We would like to thank Kate Laukhart [Director of training at DCFA] for also assisting us at the clinic, and our sponsors Aspen Bermuda Ltd for supporting our program and player development, Bermuda Futsal Federation, Electronic Entertainment, Portofino, Soccer plus, Choices menswear."